STIEBEL ELTRON
A company full of energy
STIEBEL ELTRON is a group of companies with a decidedly international outlook, and can rightly claim to be a global market leading supplier of technology for building services and renewable energy equipment.
Since 1924, the company's success has depended upon its level of technical competence, high quality standards, innovation, reliability and customer-oriented service. Five national and international production facilities, 21 subsidiaries around the world, plus sales organisations and representatives in 120 countries translate into a truly global presence for STIEBEL ELTRON. Approximately 40 percent of the company's turnover comes from export.
The company's founder, Dr. Theodor Stiebel, came to Berlin in 1924 with the goal of developing and manufacturing products with low energy consumption, increased safety and greater convenience. An objective which still holds true for the company today. The company is owned by Frank Stiebel and the Stiebel Family Trust, created by Dr Ulrich Stiebel, each of whom holds 50 % equity.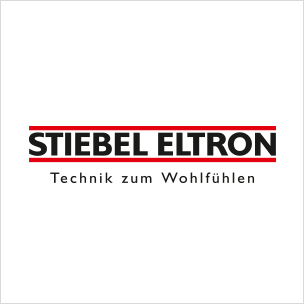 International success – the STIEBEL ELTRON group of companies
The STIEBEL ELTRON Group is focused around STIEBEL ELTRON GmbH & Co. KG and STIEBEL ELTRON International GmbH with their national and international sales organisations. The core global brands are STIEBEL ELTRON and AEG Haustechnik, which are complemented and supported nationally by other brands such as Zanker and Tatramat. Feature brands such as Tecalor and long standing business partnerships such as Geowell complete the group. Overall, the group comprises 21 subsidiaries, located in Europe, Asia, Australia and North America. Total sales in 2016 amounted to 478 million euros. The group employs 3.100 people worldwide.
In 2002, STIEBEL ELTRON acquires the building services division of Electrolux Deutschland with the brands AEG and Zanker. The product range for DHW, central heating, underfloor heating, air conditioning and ventilation complements the STIEBEL ELTRON portfolio perfectly.
Tatramat has been owned by STIEBEL ELTRON since 2004. The company sells its products mainly in Eastern Europe and is the market leader in Slovakia and the Czech Republic.
Tecalor GmbH focuses on modern environmental and resource-efficient building services. The successful company is an expert contact for property developers, planning offices, house manufacturers and workshop businesses
Investment in innovation – the STIEBEL ELTRON production facilities
The Holzminden site is the head office of the STIEBEL ELTRON Group, and also its largest production facility. Alongside the worldwide administration and sales organisation, it is also home to the production site of many millions of electrical DHW and heating appliances, as well as plants and systems that use renewables. Added to this, is a further high tech factory in Eschwege (Germany), which manufactures small water heaters, water boilers, hand dryers and all the thermoplastic components required within the group. There are also three international production facilities in Poprad (Slovakia), Ayutthaya (Thailand) and Tianjin (China). Photovoltaic modules complete the product portfolio.
Active support – the STIEBEL ELTRON corporate philosophy
Traditionally the company has been oriented towards wholesalers and contractors. This focus remains central to the company's philosophy today. STIEBEL ELTRON values the active support of its partners and provides training, plus sales and service support. The retail trade, contractors and engineers/designers have access to the training academy in Holzminden for product support. Last year alone, more than 10,000 participants took advantage of the wide range of courses on offer at the academy. The whole product range is showcased in six sales centres in Germany, including permanent exhibitions – mostly with 'live' systems.
An ambitious research, development and investment program has been designed to equip STIEBEL ELTRON for the years ahead. During 2014, Group investments in its production sites in Germany climbed above the €10 million mark once again. Stiebel Eltron is currently building a new training and communication centre in Holzminden. By mid 2015, a new conference suite will be located at the Group's head office offering versatile meeting rooms for national and international visitors.